Airflow carbonization furnace
August 12, 2018
Category: Other
Views: 724
Description
Price : 0 INR
Type : Products
Date : August 12, 2018
Condition : New
Warranty : Yes
Location : China, Henan Province, Zhengzhou, Gongyi, Middle of Heluo Road
Product introduction of Airflow carbonization furnace
It is a Airflow carbonization furnace, not only it has best carbonization effect and shortest carbonization time, but also it can collect wood tar oil and exhaust gas. After processed, this gas can used recycling fuel.
The working principle is dry distillation, the carbonization temperature can be controlled and adjusted, the highest temperature can reach 800-1000 °C.
At the beginning of every carbonization, it needs light the fire, about 30-50 minutes, then let out the fire. It means when you starting your second carbonization, you need light fire again.
With extra four inner furnaces, it can achieve carbonization continuously, when finish the first carbonization, take out the inner furnace to cool them, then put into extra four, start the next carbonization. So even though 4 cycles / 24 hours is no problem.
In the both sides of the pipe, there are two ports, one for smoke and exhaust gas, the other for wood tar oil.
The fuel can be wood, charcoal, coal, natural gas or diesel, all can be ok.
It needs wood about 30-50 kg / 4-5 hours, if coal, about 20-30 kg / 4-5 hours. Natural gas and diesel are less than them.
Square shape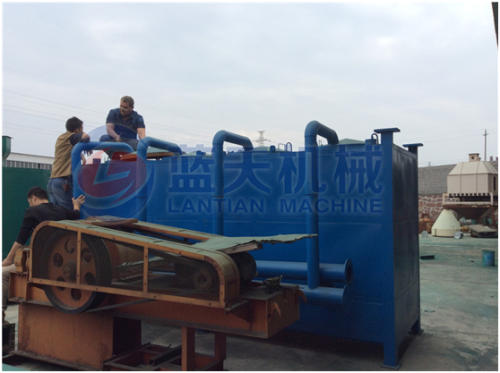 Round shape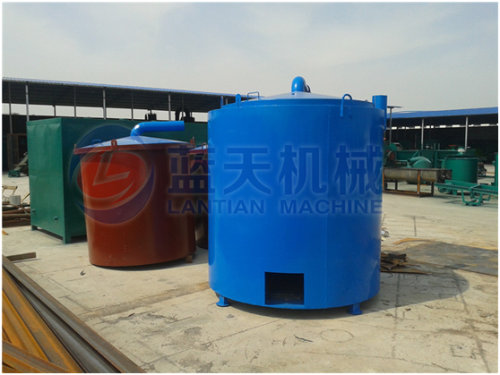 ---